The group stage of the Cricket World Cup has finally drawn to a close and the semifinal line up is set.
India will take on New Zealand in the first semifinal at the Wankhede Stadium in Mumbai on Wednesday.
Then, on Thursday, Australia and South Africa will write a new chapter in their Cricket World Cup rivalry at Eden Gardens in Kolkata.
The winners of the semifinals will meet in Ahmedabad for the final on Sunday November 19.
Follow both semifinals and the final in the ABC Sport live blog from 7:00pm AEDT.
Can anyone stop India?
Unbeaten in the group stages, India is riding ahead of the intense pressure wave that their billion supporters are generating.
So far, India has looked unstoppable.
This year India has only lost five of their 30 matches, with one no result.
Of the 21 matches that have taken place in India in 2023, they have lost just three — all against Australia.
Virat Kohli, after a massive gap between international centuries, is finally back to his best, scoring a tournament-high 594 runs at an average of 99.00 this tournament with two centuries and five fifties from his nine innings so far.
Kohli's form has only been part of the picture though — India average 57.34 runs per wicket at this World Cup, over 12 runs per wicket more than any other team.
Rohit Sharma has led the team with distinction, batting brilliantly at the top of the order to score 503 runs with a century and three fifties.
His ability to adjust to the varying conditions and game scenarios is unrivalled at the best of times, and he has done that again in this tournament as well as managing the extraordinary pressure.
He is also managing his wealth of bowlers perfectly as well. 
Jasprit Bumrah's availability helps no end, with his 17 wickets costing him 15.64 runs each, while his economy is a sensational 3.65 runs per over.
In fact, India's phenomenal bowling has been a cut above the rest this tournament.
Of bowlers who have sent down 30 or more overs so far this tournament, four of the top seven most economical bowlers are Indian.
Australia on a roll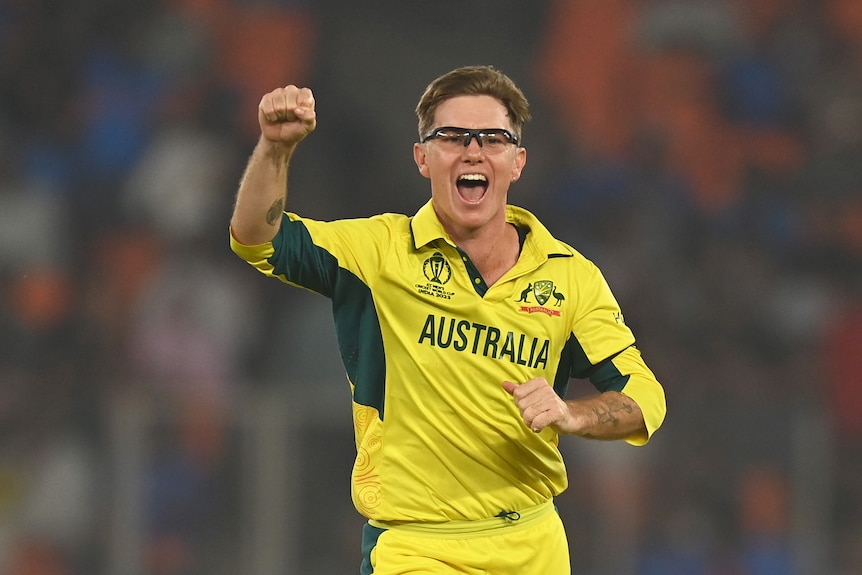 After losing their opening two matches, Australia has now won seven-straight to soar into the semifinals — their best ODI winning streak since they won 10 in a row in 2019.
It's not always been easy — without Glenn Maxwell's heroics Australia would likely have fallen to defeat against Afghanistan — but pivotal performances like that help keep the momentum rolling as Australia meets South Africa in the semi.
Earlier in the tournament the South Africans inflicted Australia's heaviest ever defeat at a Cricket World Cup, a resounding 134-run defeat in Lucknow.
South Africa and Australia have a rich history at Cricket World Cups — particularly in semifinals.
In 2019 South Africa's 10-run win at Old Trafford denied Australia top spot at the end of the group stage and put the Aussies on a collision course with hosts and eventual winners England in the semis.
More directly, Australia beat South Africa in a low-scoring semifinal in Saint Lucia in 2007, and qualified for the final in 1999 after the teams tied their semi at Edgbaston — one of the greatest ODIs of all time.
The Aussies qualified due to having a superior net run rate during the Super Six phase, during which Herschelle Gibbs dropped Steve Waugh at short mid-wicket — and with him, according to cricketing folklore, the World Cup.
Adam Zampa has been the star for Australia with the ball, taking a tournament-high 22 wickets at an average of 18.90 and with an economy rate of 5.26.
With the bat, David Warner's resurgence continues with two centuries and a half-ton, although every batter has played their part in some way.
New Zealand has unearthed a star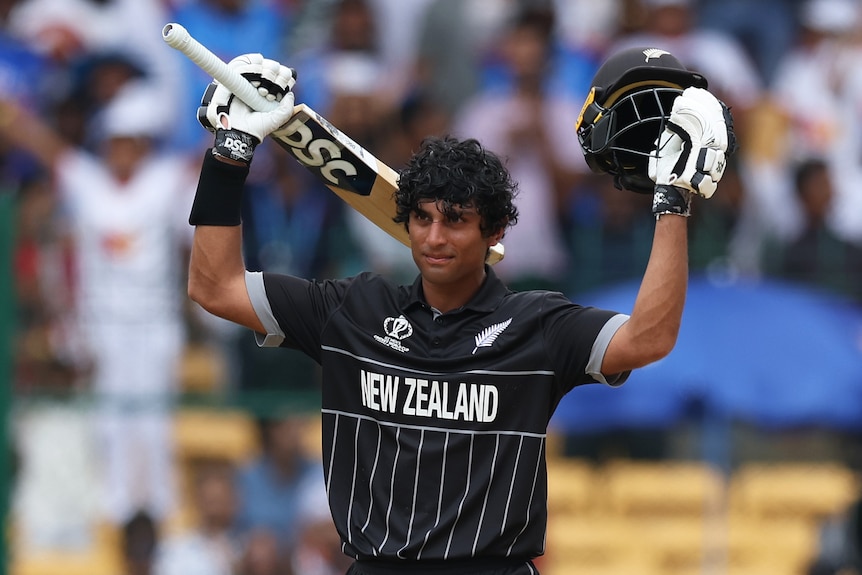 Rachin Ravindra only played his first ODI for New Zealand in March this year.
Now, the 23-year-old will have a chance to give himself the best possible 24th birthday present imaginable by leading New Zealand to a third-consecutive World Cup final.
Ravindra, who will celebrate his birthday on Saturday, is having a superb tournament.
Three centuries, two fifties and a total of 565 runs at an average of 70.62 — it's been a brilliant tournament for the youngster, who surpassed Jonny Bairstow's record for the most runs scored by a World Cup debutant and, perhaps more importantly, Sachin Tendulkar's record for the most runs scored by a player under the age of 25 at a single World Cup.
And he's had plenty of support too, saying it was "surreal" to have his name chanted by the Bengaluru crowd — the hometown of his father — in the victory over Sri Lanka.
It's safe to say the crowd in Mumbai will not be quite so supportive.
Kane Williamson's return from a broken thumb has been successful, with two fifties from his three innings at an average of 93.50, although his leadership does far more than just numbers can ever show.
New Zealand have not beaten India in India in an ODI since 2017, a six-wicket victory thanks to Tom Latham's unbeaten 103 — despite Kohli's 121.
That match was at the Wankhede stadium, the only time New Zealand have played India at the storied venue.
The Black Caps did beat India in the semifinal at Old Trafford four years ago though, by 18 runs.
Bat first to beat South Africa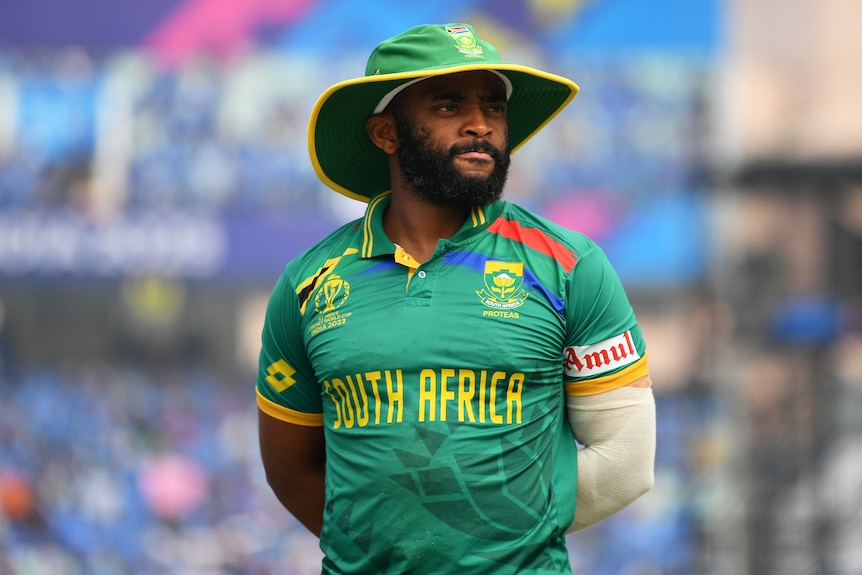 Surely it's not that simple?
Well the stats suggest that South Africa really struggles batting second at this World Cup.
South Africa has lost twice in the tournament so far — to India and the Netherlands — and both times they were chasing.
The other times South Africa batted second, they limped to a one-wicket victory over Pakistan with just 16 balls to spare but, importantly, beat Afghanistan by five wickets with 15 balls remaining in their final pool stage match.
"In any chase, there has to be someone who plays an anchor role," said Rassie van der Dussen, whose unbeaten 76 from 95 balls helped South Africa get over the line in Ahmedabad against Afghanistan.
"We know what our batting line-up can do. We are probably 50-50 when chasing and we would like to improve that, of course."
South Africa are, in fact, exactly 50:50 when batting second, both overall in ODIs in 2023 and at the Cricket World Cup.
This year South Africa has lost five of the 10 games they have played when chasing — with two of those wins coming with 16 or fewer balls to spare — and are 2-2 at the World Cup.
However, when South Africa has batted first, they have won 10 of the 11 matches they have played in 2023, winning five-from-five at the World Cup.
South Africa's average run rate at the World Cup when batting second is a paltry 4.70. It's 7.51 runs per over when they bat first.
"We know there's a narrative about us chasing," Proteas skipper Temba Bavuma said after the heavy defeat against India.
"I think we have our conversations as a batting group, we have discussed it unemotionally."
Incidentally, the one defeat the Proteas have suffered batting first in 2023 came against Australia in Bloemfontein on September 7.
The thing is, South Africa's batting in general is not really an issue — at the World Cup South Africa has managed scores of 428, 311, 399, 382 and 357 — with their batters scoring eight centuries (four to Quinton de Kock) and nine fifties.
Sports content to make you think… or allow you not to. A newsletter delivered each Friday.