As Virat Kohli walks out to bat during the men's ODI World Cup in India, thousands of spectators scream with excitement.
Key points:
Virat Kohli was the ODI World Cup's leading run-scorer after the group stage.
Kohli and Sachin Tendulkar share the record for the most ODI centuries (49)
Kohli is aiming to win the ODI World Cup for a second time
This continues during his innings whether he's taking a single or flicking a six over square leg.
If Kohli is dismissed, you can hear a pin drop in the stadium. Such is the popularity of the Indian superstar.
When Sachin Tendulkar retired from international cricket in 2013 as the leading run-scorer and century-maker in Tests and ODIs, Indians thought they'd never see another player like him.
While the Little Master remains a god-like figure in a country where cricket is a religion, he's sharing the spotlight — and one of his records — with Kohli.
On his 35th birthday and in front of a delirious full house at Eden Gardens in Kolkata, Kohli joined Tendulkar on 49 ODI centuries when he made 101 not out in a crushing win over South Africa.
"Honestly, 12 years ago when we were covering Sachin Tendulkar, did I think that we would be speaking on this topic where a record of Sachin's could be broken?" Indian cricket expert Harini Rana told ABC Sport from Mumbai.
 "I wouldn't have given myself that belief that there could be another Indian who could break that record, but here we are."
As a child raised in New Delhi, Kohli hoped that he would meet Tendulkar one day. Even better, they played in the same Indian team towards the end of Tendulkar's career.
In the aftermath of India's ODI World Cup triumph on home turf in 2011, Tendulkar was carried off the ground on the shoulders of Kohli.
"The ultimate impact Sachin Tendulkar had on Indian cricket was to inspire a kid like Virat Kohli," three-time World Cup winner Adam Gilchrist told ABC Sport.
"To then be given a chance to play alongside him, win a World Cup with him and then sit at the peak of the mountain speaks volumes."
Kohli made his ODI debut in 2008 and remains a master of the format. After the group stage at the current World Cup where India was unbeaten, he was the tournament's leading run scorer with 594 at the Bradman-esque average of 99.
"It seems at will he's able to produce, certainly with the backing of the home crowd, phenomenal performances," ABC Sport's cricket commentator Jim Maxwell said.
"He's one of the great stroke-makers of the time.
"He has what all great batsmen have, the ability to dominate and reduce attacks on many occasions to sheer mediocrity."
While the quietly spoken Tendulkar often let his bat do the talking, Kohli's outgoing personality and combative nature have been key factors in India's rise to cricket superpower status.
"This is the new India, this is the India that is aggressive and will go hard to fight for their dreams and set new high standards," Rana said.
"He has a warrior mindset and that is the mindset of our country at this stage.
"While Sachin laid the foundation, Virat is taking that foundation to another level which showcases the newer India to the world.
"He cuts through not only different socio-economic strata of our country but across boundaries, across borders, across gender and across age groups.
"Somebody who is 70 years old gets inspired by Virat Kohli and somebody who is 10 years old is saying 'I need to be like him because he's got aggression, he's got passion'."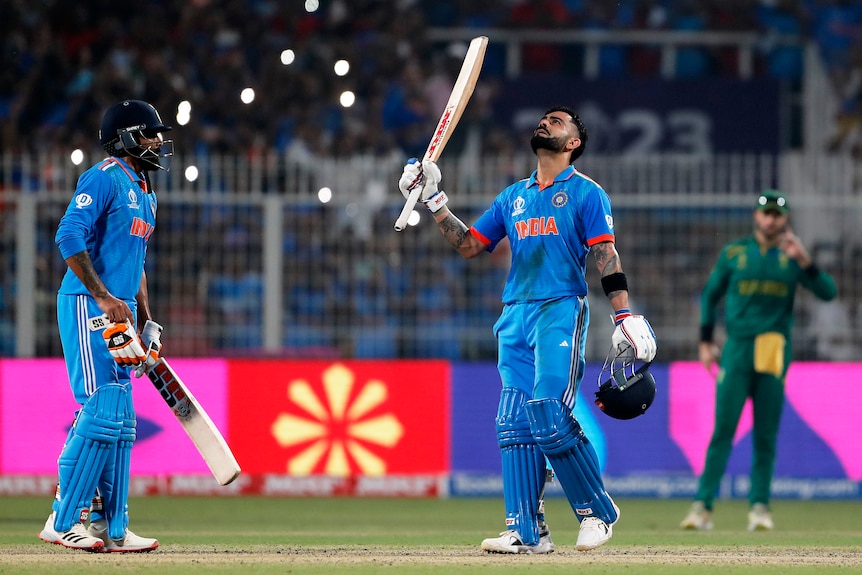 Kohli is known as The Chase Master for the way he thrives under pressure and often produces match-winning innings when his team is batting second in one-day games.
Another reason why he's adored by Indian cricket supporters is the way he makes them feel part of games. If India needs a wicket, a gesture from Kohli towards the crowd will instantly raise the noise levels.
"He has a direct communication with the fans if he's on the boundary or in the slips," Rana said.
"If there's a DJ who plays a song, he will break out into a dance and people love that about him.
"I think what Virat is now is what the newer generation of our country is. He's more relatable, he's more real.
"You see him every day not only on the cricket field but on advertising hoardings, on television, social media.
"If you look at our population now, the majority of our population is the younger generation, they relate to him."
Kohli is India's biggest sports star and his influence extends beyond cricket boundaries. Hollywood actor Jack Black recently described him as the "Michael Jordan of cricket".
"When cricket was inducted into the Olympics (for Los Angeles 2028), the presentation spoke about how Virat is far more popular than some of the world football icons put together," Rana said.
Kohli's made more than 26,000 runs for India across the Test, ODI and T20 formats.
Gilchrist says the right-hander's longevity can be traced back to a worth ethic and hunger that were influenced by Tendulkar.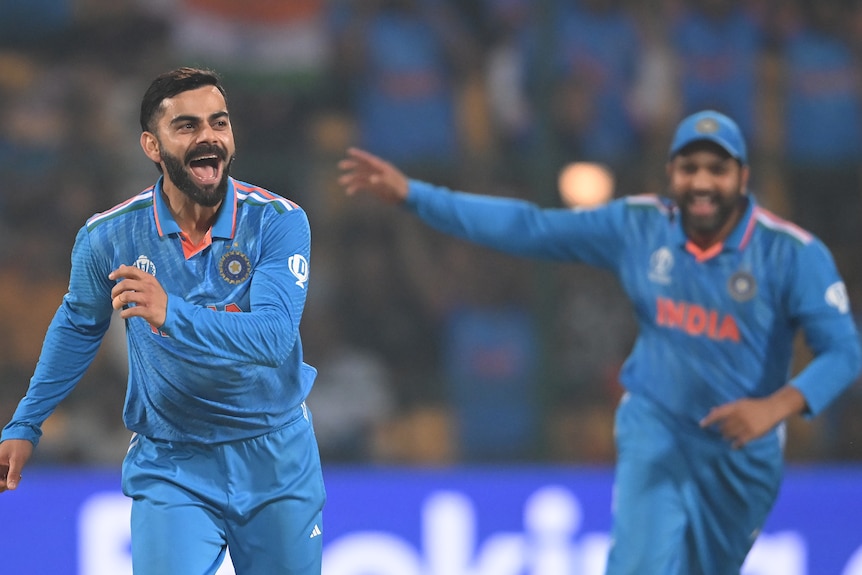 "The great players don't achieve these feats by just being naturally talented," Gilchrist said.
"Virat's been a benchmark, he took fitness and conditioning to a whole new level not just for Indian cricket but for world cricket and became the one that everyone's tried to emulate."
Rana said there is something else that Kohli inherited from Tendulkar.
"Technique was important but the mindset was far more important and I think Virat took that to another level when it comes to playing the game in his mind first and executing it on the ground."
If India wins the ODI World Cup for a third time in what could be Kohli's last appearance in the tournament, his career will have come full circle.
"It would be a fitting tribute to a guy who has given Indians so much joy," Rana said.
"I won't be surprised if on November 19 people are running around with Virat Kohli on their shoulders."
Sports content to make you think… or allow you not to. A newsletter delivered each Friday.