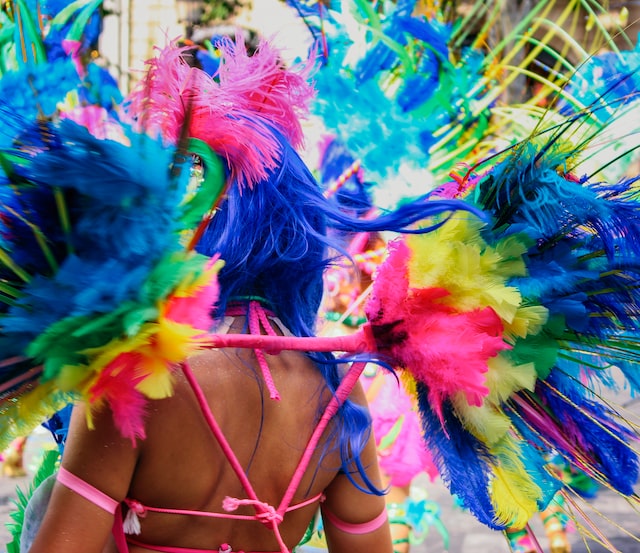 Whether planning your next vacation or looking for an exotic place to move to, the Caribbean should be at the top of your list. This region has so much to offer that it's impossible to get bored. Here, you'll find some of the best Caribbean islands for couples that provide romantic sceneries and fabulous resorts. However, there's a lot more to it than that. The region is home to many cultures with very different backgrounds. As a result, you'll have the opportunity to learn about their history and traditions. And what better way to do this than by participating in their festivities? Here's a list of some of the best Caribbean festivals and celebrations to attend.
No. 1 The Trinidad and Tobago Carnival is one of the best Caribbean festivals and celebrations to attend
The Trinidad and Tobago Carnival is one of the best-known celebrations in the region. It has become so popular that other Caribbean islands avoid scheduling their festivities simultaneously. This carnival has a history that dates back to the 18th century when the French colonized the island. As a result, the celebration still includes elements of French masquerade balls. However, it also celebrates the rebellion of the enslaved people against the colonizers. Thus, the festivities also incorporate cultural expressions of the African population.
No. 2 The Reggae Sumfest and Jamaica Carnival
Why visit Jamaica? Apart from the alluring beaches and fantastic food, this is reggae's birthplace. So, this is the place to be if you're a fan of this music. Specifically, you should attend Reggae Sumfest, which is one of the largest music festivals in the Caribbean. It has a history of around 30 years and has developed into a week-long festivity. While it used to include many international artists as well, in recent years, it started to focus on Jamaican artists. That is great because it provides you with a more authentic experience.
While in Jamaica, you should also make time for the Jamaica Carnival, one of the most popular festivities in the Caribbean. It includes everything from colorful carnival costumes, parades, and parties to great food, music, and a lot of dancing. While this celebration usually starts after Easter, Jamaica's carnival season begins as early as January.
No. 3 The Barbados Crop Over Festival
The Barbados Crop Over Festival is one of the best Caribbean festivals and celebrations to attend. It all started in 1678 as a slaves-only celebration. And it used to celebrate the end of the harvest. Nowadays, it has grown into a 3-month-long festival. Thus, if you feel up to it, you should join the party. You'll enjoy great concerts, dancing, contests, and fantastic food. Plus, it all culminates with an incredible carnival parade.
No. 4 The Aruba Carnival
The Aruba Carnival is one of the main reasons to vacation in Aruba. While the carnival celebrations on the island began in the 1920s', they were primarily private affairs. Plus, they mainly included European elements. But later, the English immigrants and Creoles combined and created this fantastic festivity. Apart from the carnival costumes and street music, this carnival also provides children entertainment. So you won't have to leave your kids at home.
No. 5 The Saint Lucia Carnival
While this festivity is a bit smaller than the previous one, it's still one of the most popular. The best part about the Saint Lucia Carnival is that the festivities start a few weeks before. For instance, you can attend the two-day Parade of the Bands. That includes costumed mas bands and traditional music. You shouldn't miss the Color Me Red street party with a red dress code. And if you want to dance while being covered in body paint, mud, or foam, participate in the carnival's opening event, J'Ouvert.
No. 6 The Junkanoo Carnival in the Bahamas
If you want to go to the Caribbean during the holiday season, you should attend the Junkanoo Carnival in the Bahamas. That is mostly a street celebration that takes place the day after Christmas. The unique, handmade carnival costumes are the most notable elements of this festivity. The locals spend months creating and are highly competitive in what concerns their creations. Here you'll also get the chance to listen and dance to the percussive beats of goatskin drums, cowbells, whistles, and horns.
No. 7 The Pirates Fest in the Cayman Islands
If you're looking for a family-friendly festival, the Pirates Fest in the Cayman Islands is the place to go. While it used to last one week, it has now grown into a two-month festivity. As you probably guessed from its name, the festival celebrates the pirate cultural heritage of the Caymans. The festival includes a float parade, a pirate landing, costume parades, street music, food, and fun competitions. As a result, neither you nor your kids will get bored.
Plan your trip
As you can see, there are plenty of great Caribbean festivals and celebrations. So, if you're ready to have a great time, it's time to plan your trip to the Caribbean. Since there's a lot to see and experience, scheduling a more extended trip would be best. Or, if you're a digital nomad, you might want to consider moving to this paradise, at least short term.
In any case, the consultants from mybrooksmoving.com advise you to pack light. That will enable you to be more flexible and explore more of this remarkable region. Make a list of your essentials and leave the rest behind. After all, you'll spend most of your time in a bathing suit anyway. Furthermore, if you're planning a longer journey, you should consider renting storage. This solution is much cheaper than paying rent and utilities for an apartment you won't live in.
In conclusion
If you're looking for a sunny paradise to spend your vacation or temporarily relocate to, the Caribbean is a great option. Firstly, you'll find some fantastic beaches and resorts. Secondly, you'll immerse yourself in new cultures while having lots of fun. This list of the best Caribbean festivals and celebrations to attend is only the beginning. Just do some research, and you'll discover countless other incredible regional festivities.
Follow us on
facebook.com/coolestcarib
instagram.com/coolestcarib
twitter.com/coolestcarib
Images used:
https://unsplash.com/photos/ysIIH0lApgs
https://unsplash.com/photos/rUufNkcGSAw
https://unsplash.com/photos/eLD3sAFV0XE
https://unsplash.com/photos/s-y6NKMOMFw