The South Australian town of Strathalbyn is known for wheat, antiques and — strangely enough — a rubber duck race, but it is not a place most people associate with dog sledding.
Key points:
Zahra Goldsmith is about to compete in the Dog Mushing World Championships in Spain
Dog mushing in Australia is mainly done in sprints over dry land
Goldsmith can't take her own dogs to Spain
Despite this, resident Zahra Goldsmith is making a name for herself on the sport's world stage.
The 27-year-old will fly out to Olvega in Spain this week to compete in the International Federation of Sledding Sports Dog Mushing World Championships.
It is a journey that started 10 years ago when she bought a Siberian husky puppy while her parents were out of town.
She loved the puppy, Mishka, but quickly realised she needed a way to keep her energetic dog from getting bored.
With a quick Google, she discovered dog mushing, which in Australia takes place mostly away from the snow fields.
"[She] got me started in the sport and I was hooked," Goldsmith said.
"I got diagnosed with ADHD a couple of years ago, so it all makes sense now.
"I found my hyper-fixation for the rest of my life."
Dog sledding down under
She said sprint racing done in Australia was on dry land.
"So we use wheels, not sleds, and we have equipment called scooters," she said.
The scooter, or kick bike, is a mountain bike with a footplate for the human musher to stand on while the dogs pull them along.
Competitors can also use other types of bikes or specialised three or four-wheel carts.
Goldsmith said her dogs could reach speeds of up to 36 kilometres per hour during their races, over 3 or 4 kilometres.
Mishka, Goldsmith's original sledding dog, is still going strong but has retired from racing.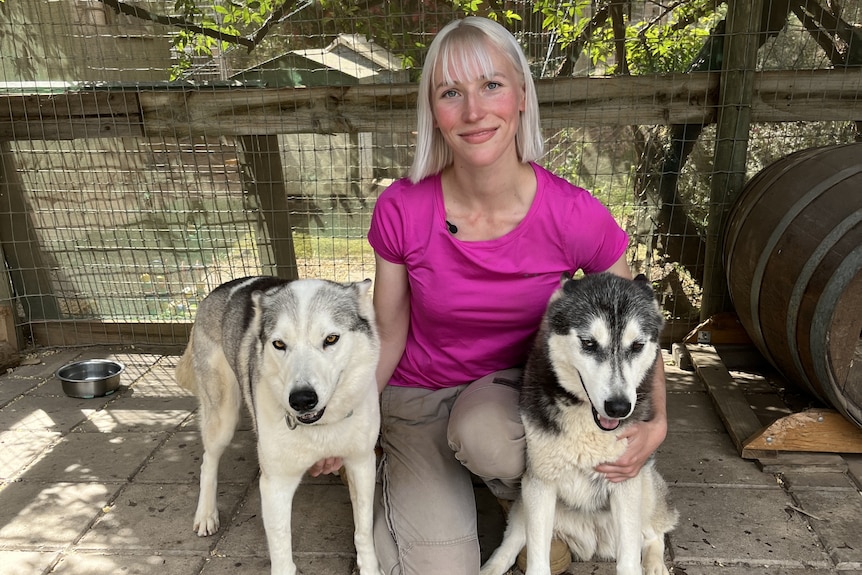 However, that hasn't stopped her from being a "tutor" to both puppies and humans in training, including Goldsmith's son, Harrison.
Mishka's other important jobs are as a family pet, and an "aunty" to the puppies Goldsmith breeds with her husband Jarrad Muir.
Muir was the last person to represent Australia in dog sledding back in 2015, in Canada.
Between the two of them, the couple a race team of seven dogs.
Most of them are German short-hair crosses, two with bloodlines originating in the Czech Republic.
Due to the cost and logistics of moving dogs in and out of Australia, Goldsmith's prized racers will not be accompanying her to Spain.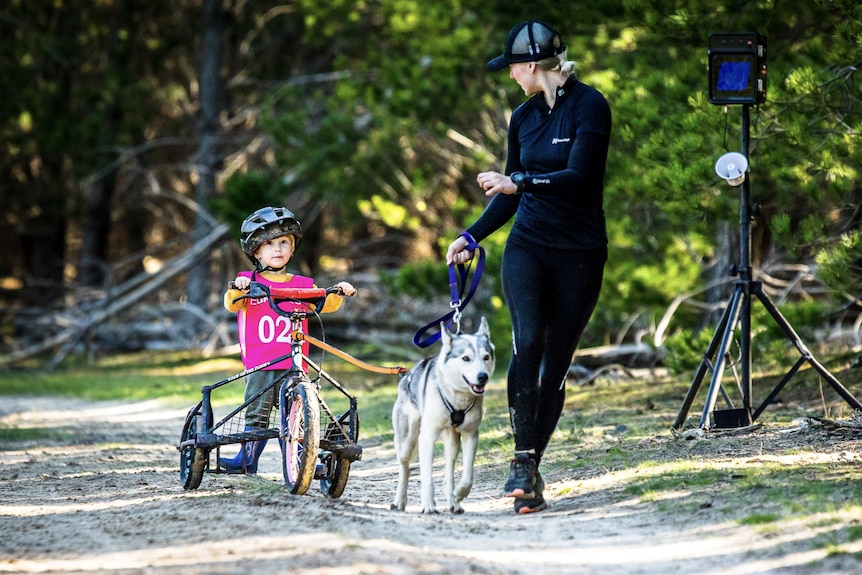 Fortunately, she has been offered the use of a sled dog from Italy named Greta — a relative of two of her dogs, Viper and Skadi.
Although she purchased Mishka without her parents' permission, Goldsmith's father Michael ended up being one of her biggest supporters when she started training the young husky.
Sadly, he passed away several years ago.
As a tribute to her father, when she competes in Spain next week, Goldsmith will wear some of the training gear he bought her in her early days in the sport.
All about the dogs
Goldsmith said although she loved to compete, it was the training runs through the forests of the Adelaide Hills that were her favourite part of the sport.
"It's freezing cold, the sky's bright blue, there's dew flicking off the dog's feet and we're just hoofing down a hill or up a trail and I can feel the excitement vibrating off them. I just feel fulfilled," she said.
"It really is about that bond and connection with my dogs."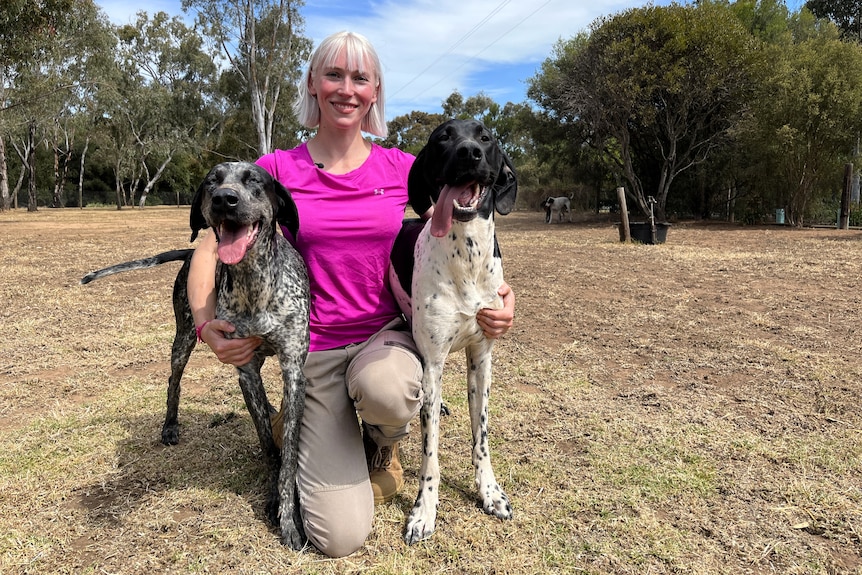 The affection she has for her dogs is evident as she takes them out to exercise in their paddock.
"They're really lovely to live with, in the house," she said, adding that not all eight were allowed inside at once.
"They're not really bouncing off the walls but then when it's time to go and do the sport that we're into, they hammer — they're really fun.
"We always keep it very fun, very happy, very light."
Goldsmith said it was always important to reward a dog with lots of pats and cuddles to keep them enthused, regardless of a race outcome.
Most South Australian races are held in the forest at Mount Crawford but Goldsmith and her husband travel and compete interstate through the dog mushing season.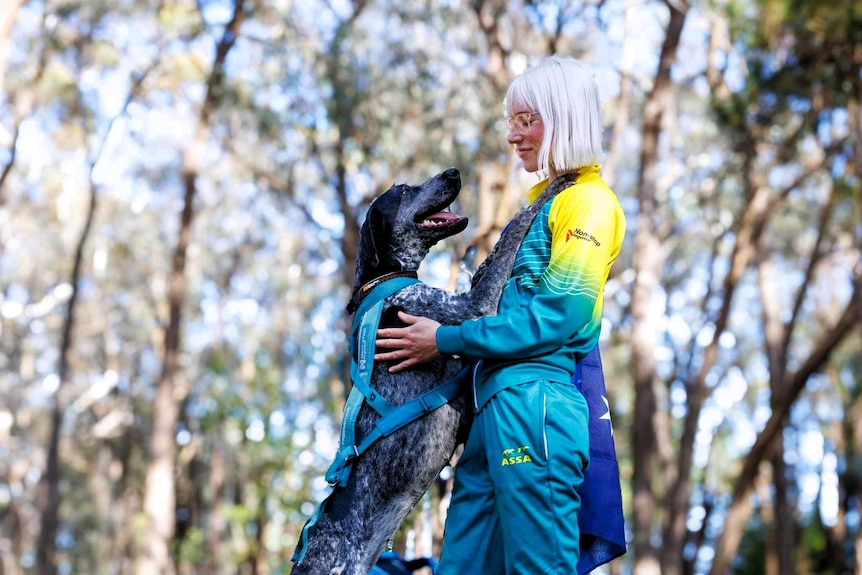 She described dog mushing as more of a hobby-lifestyle in Australia.
"There's no money in it," she said.
With her two biggest dogs eating up to 8,000 calories per day in winter, their food bill is considerable.
"It's a lot of food going in and out of those dogs constantly, but it's worth it," Goldsmith said.
"We're hooked."
The Dog Mushing World Championships will run from November 20 to 26 in Olvega, Spain.
Get our local newsletter, delivered free each Thursday